What a crazy year this has been! The world has changed, our jobs have changed, and especially our marriages. Has your marriage changed for the good or bad? I know for us, we both had complete job changes, and we are both working from home and together now. It has it's positives and negatives, but what we do both know is that our marriage is our TOP priority and we will do anything to keep it strong, passionate and alive!
Whether you feel like your marriage hasn't changed, maybe it's not as strong, or as strong as ever… there are always a few things you can do to strengthen it even more. And they don't have to be complicated things, sometimes it's the simple things we do for each other that bring the most love and respect.
This list is for husband and wife. We hope you will find even just a few of these ideas to be fun, passionate, bring back some excitement, and really bring you even closer together.
Dig out the old photos or photo albums of pictures of the two of you dating. Reminisce about the memories of the photos.
Dream big and make a bucket list of all the things you would like to do together this next year. You can make a customized bucket list on the Ultimate intimacy app.
Wear your spouses favorite outfit today.
Hang up one of the photos that you found and frame it or stick it on the mirror.
Download the Ultimate Intimacy app and spend time answering all of the romantic conversation starters. https://ultimateintimacy.com/
Spend 30 minutes talking about a goal that you have or one you want to accomplish this month.
Massage your spouses neck and shoulders for 20 minutes.
Buy your spouse their favorite treat at the gas station.
Hold your spouses hand every chance you get all day today.
Climb into bed early. Spend quality time touching each other.
Make sure you have all the items needed for your spouses favorite breakfast.
Spend 30 minutes telling jokes to each other and laughing. You can always find a good list of jokes on the internet.
Give your spouse a couple hours of quality alone time. Let them focus on their hobbies or have a day out.
Text your spouse a romantic message about why you chose them to spend the rest of your life with.
Take the love quiz on the ultimate intimacy app and find out how your spouse likes to be loved the most: https://ultimateintimacy.com/
Bring your spouse their favorite snack while they are watching their favorite show.
Surprise your spouse by cleaning their car, filling it with gas or getting it detailed.
Send your spouse an email. Give them a list of 20 things you LOVE about them.
Praise your spouse in front of your family or kids.
After a rough day, make your spouse their favorite drink, cocktail, or smoothie.
Be silly and paint your spouse a piece of art expressing your love for them.
By your spouse a toy. It could be something silly, romantic, or even sexual.
Call your spouse in the middle of their day just to say "I love you."
Decorate your porch or driveway in chalk to express your love.
Tell your spouse how good they look today.
Do a chore that your spouse really hates to do.
Buy your spouse a gift card to their favorite place to shop.
Write your spouse a love poem.
Cheer your spouse on the next chance you get.
Bake your spouse their favorite cookies.
Show extra excitement for your spouse when they arrive home today.
Find a way to touch your spouse, whether it's just rubbing their hand or giving a back massage.
Peek at your spouse in the shower and tell them how amazing they are.
Listen to a marriage podcast together. There is a great list of podcasts in the Ultimate Intimacy app https://ultimateintimacy.com/
Buy your spouse a new tooth brush
Order your spouses favorite take out and eat over a candlelit table.
Buy your spouse something on their amazon wish list.
Plan a really romantic date night for this weekend and dress up!
Go on a walk and make sure to hold hands.
Have an entire evening with NO technology. Focus on each other.
Play a board game or card game. Winner picks the position 😉
Write tiny love letters on 10 post-it note cards and place them in different places in the house.
Thank you spouse. Thank them for all that they do and more specifically 10 things that you are most thankful for.
Kiss your spouse 15 different random times throughout the day.
Listen uninterrupted about how your spouses day was.
Cook your spouse their most favorite meal.
Buy your spouse a new pillow, or something new that they have been needing.
Let your spouse sleep in for once.
Play the foreplay section of the ultimate intimacy app https://ultimateintimacy.com/
Give your spouse an amazing butt massage. Who doesn't want that?
Have a Naked Movie Night. Snuggle under the covers naked for the entire movie! No sex until the end 🙂
Stare into your spouses eyes and tell them how much you love them.
Try a new position tonight. Tons of non-graphic ideas on the Ultimate Intimacy app https://ultimateintimacy.com/
Slow dance in your living room to your favorite romantic song. Or even better take a ballroom dance class together.
Heart attack your spouses car, bed or anywhere they would love it. Free printable hearts to write on located in the Ultimate Intimacy app.
We have an awesome 30 day marriage challenge printable you might just love, if you love these ideas. It is found on the app and the blog post is found HERE for more info or you can click on the image below.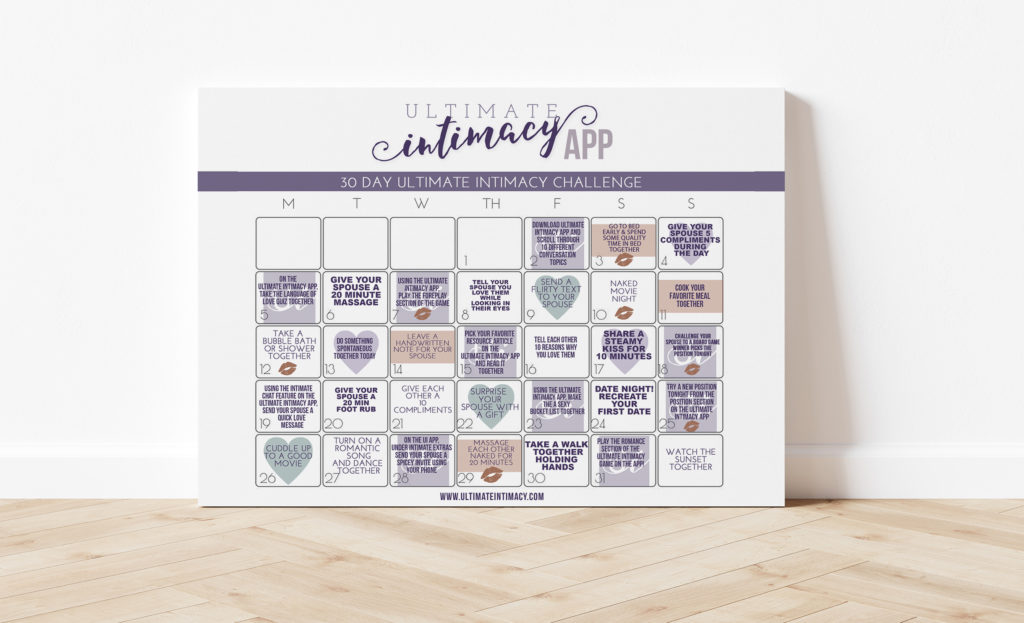 We also have a 14 day LOVE challenge printable found on the app under the resource section, under printables.
You can download the FREE Ultimate Intimacy app in both app stores or check out https://ultimateintimacy.com/ for more info and reviews.
We also have card decks to spice up intimacy in your marriage and also deepen your connection through communication.