Couples in a stable relationship don't need to question where the relationship is going, and they trust each other 100%. There is no jealousy or trust issues, and stable couples are always having good communication.
Here are the signs and ways to know if you are in a strong, stable and healthy relationship:
You show and express your feelings to each other – You are not afraid to do so and you do not keep secrets from each other and feel comfortable talking about everything together.
You support each others growth and goals – Couples who are in stable and healthy relationships support each others dreams and goals and will do whatever they need to support each other in whatever endeavors, dreams or goals they have in life.
You are constantly connecting with each other and interested in discovering new things – Remember when you were dating how interested in each other you were? You wanted to know EVERYTHING about the other person and of course there was no problem with the connection. Stable couples continue to have these in depth conversations together and never loose interest in trying to discover more.
You are best friends and would rather spend time together than with anyone else – We see a lot of couples that spend so much time involved in other activities and friends, and it almost seems as if they don't want to be at home with their wife or family. These are the couples that end up in divorce or unhappy marriages. Stable couples are best friends and want to spend good quality time together and enjoy doing so. That doesn't mean they don't have other hobbies or things they do with friends, but they prioritize their relationship with their spouse.
You are constantly working on your marriage to make it better – Good marriage realize they have to constantly be doing things to make their marriage better. These include having date nights, frequent sexual intimacy, good emotional intimacy and communication and so many other things. If you are not constantly working on your marriage together, then you could be going backwards.
You lean on each other, and can rely on each other – They work together as a team. They make important decisions together and support each other in every way. Couples that work together as a team have much less arguments and issues in their marriage, because instead of fighting claiming each other, they are fighting and solving the problems together.
You can move on from disagreements or fights quickly – Couples with stable relationships are able to move on from arguments and disagreements quickly, and not only move on, but connect quickly after. They don't allow things to come in between them.
You can also listen to the podcast episode 139. Is Your Relationship Strong, Healthy And Stable? Here Are The Signs

There are no toxic signs in your relationship – Toxic things include mental for physical abuse, jealousy, disrespect, selfishness, dishonesty, and other behaviors that ruin relationships.
You are both predictable and know how each other will react in different situations – Healthy and stable couples often know their spouse better than they know themselves. They know how they will react to certain situations or problems.
You try to speak each others love languages and make it important – This is an area that is vital. Knowing your spouses love language, and showing them love in that way is often a make or break for relationships. Stable and healthy couples express love to each other in the way their spouse feels loved, and they make it a priority. If you don't know your spouses love language, then find out by downloading the Ultimate Intimacy App and taking the quiz for free HERE.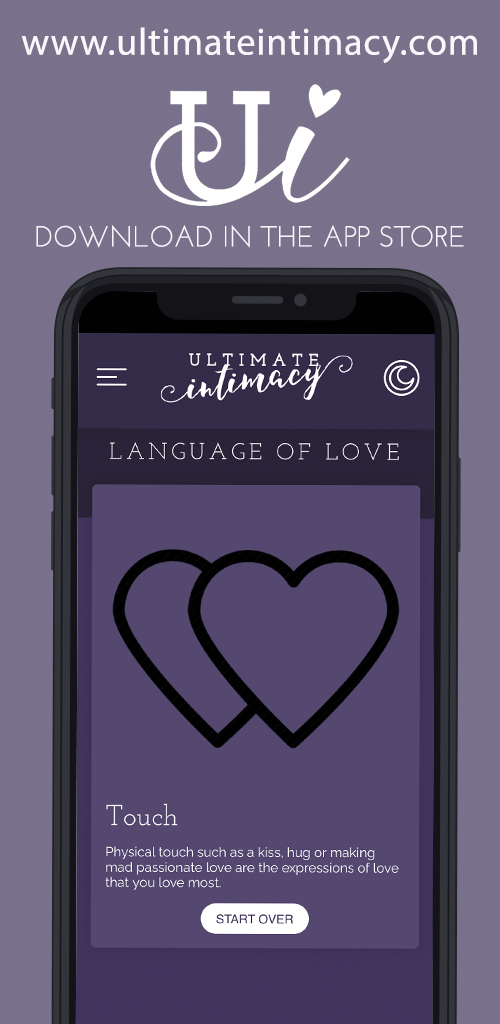 You are involved in each others lives – Be involved and show interest in all aspects of each others lives. This means showing up to things that are important to them. It could be a pickle ball match, or supporting them in other ways.
You stand up for each other and back each other up no matter what – You won't allow anyone to disrespect your spouse, and you certainly don't make disrespectful or despairing comments. You build each other up (never tear each other down). Even if your spouse makes a bad decisions or fails at something, you have their back no matter what.
Building a stable and healthy relationship takes time, and you never stop working at it. Regardless of how many areas you were doing good in (or not so good in), continue to work on creating a stable and healthy relationship together and watch your marriage flourish.
Ultimate Intimacy
---
If you are looking for better sexual intimacy in your relationship, check out the amazing Ultimate Intimacy Sexual Intimacy Marriage Workbook covering a ton of topics:
Communication
Making love vs having Sex
Barriers to Intimacy
Dealing with Different Sex Drives
Desire Styles
Sex languages
Getting in the mood for Sex
Getting prepared mentally
At home date ideas
Foreplay Fun
Anticipation of Love making
Sensual Massage
Scheduling Sex
Bedroom Routines
Bedroom Atmosphere
Initiating in marriage
The Clitoris
Benefits of Sex
Things that destroy intimacy
Overcoming sexual dysfunctions
What is ok and not ok?
Position Fun / Trying new things
Questionnaire and Goal Setting
Setting up for lasting Intimacy
Marriage Challenges