We have talked about this before, but need to stress again how important sex is in marriage. Sex is an essential part of a healthy and fulfilling relationship and it is almost impossible to have a great relationship without frequent sexual intimacy as a couple (we understand some health concerns may keep this from happening), yet many couples often neglect it due to various other reasons, and most the time it is due to other distractions. Whether it's due to a busy schedule, stress, or simply being too tired, the lack of sexual intimacy can take a toll on your relationship.
Sexual intimacy and emotional intimacy go hand in hand. For many men, they need the sexual intimacy to provide the emotion intimacy, and for many women, they need the emotional side to want to feel connected sexually.
Sometimes this imbalance can cause real issues in the relationship. One of the leading causes of divorce is due to issues with sexual intimacy.
For a great podcast on this subject, check out the Ultimate Intimacy Podcast Episode 116. Is This Toxic Emotional And Sexual Intimacy Game Being Played In Your Marriage?

While there are many benefits and reasons you should be having frequent sexual intimacy in your marriage, here are just a few of them.
The Reasons You Should Have Sex Tonight
Sex is good for your physical health: Regular sexual activity has been linked to numerous health benefits, including reduced stress, improved cardiovascular health, and better sleep.
Sex is good for your mental health: Sexual intimacy releases endorphins, which can improve your mood and reduce feelings of anxiety and depression. Self worth and self esteem are often tied to sexual activity, especially for a man.
Sex strengthens your bond both emotionally and physically: Sex helps to build intimacy and connection between a couple, which is essential for a healthy and fulfilling relationship. There is nothing more vulnerable than being naked and bearing it all together as a couple when making love.
Sexual intimacy improves communication: Good sexual communication is essential for a healthy sex life, and having sex regularly can help you and your spouse feel more comfortable discussing your needs and desires. As we have mentioned, many men need the sexual intimacy to be able to open up and provide the emotional intimacy. Couples that have good sexual intimacy typically have great communication and emotional intimacy.
Sex can be very fun and enjoyable: Sex is a pleasurable experience and can bring joy and excitement to your relationship. Try spicing things up with the Ultimate intimacy App! The #1 Marriage and Intimacy App on the market with over 600,000 downloads and close to a 5 star rating with thousands of reviews! Best of all, it's free to download! Just click on the picture below.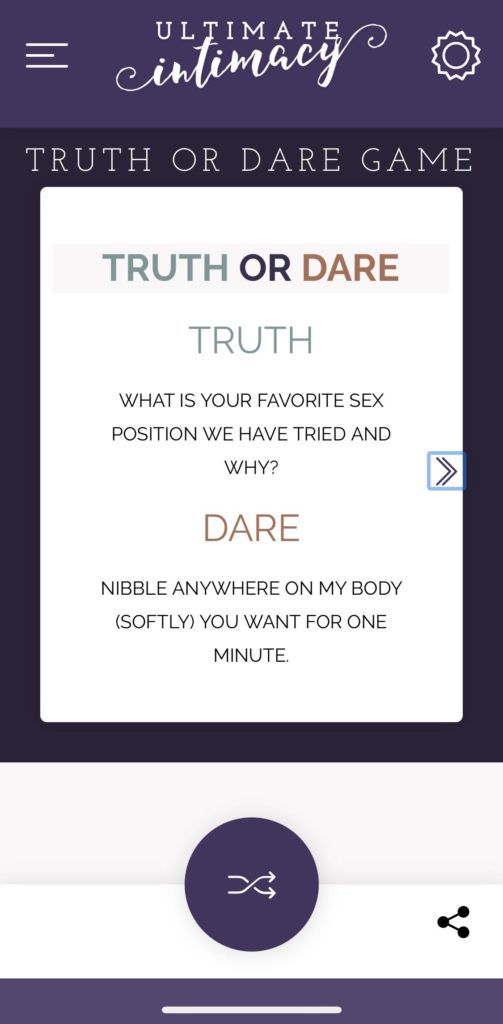 Sex boosts your confidence: Having a satisfying sex life can improve your self-esteem and confidence, both in and out of the bedroom.
It's a stress reliever: Sex can be a great way to relieve stress and tension, leaving you feeling more relaxed and content. It is interesting to note that for some people, sex can be a great stress relief while for others, stress can be a great roadblock to sex.
It's a form of self-care: Taking the time to prioritize your sexual needs is a form of self-care and can have a positive impact on your overall well-being.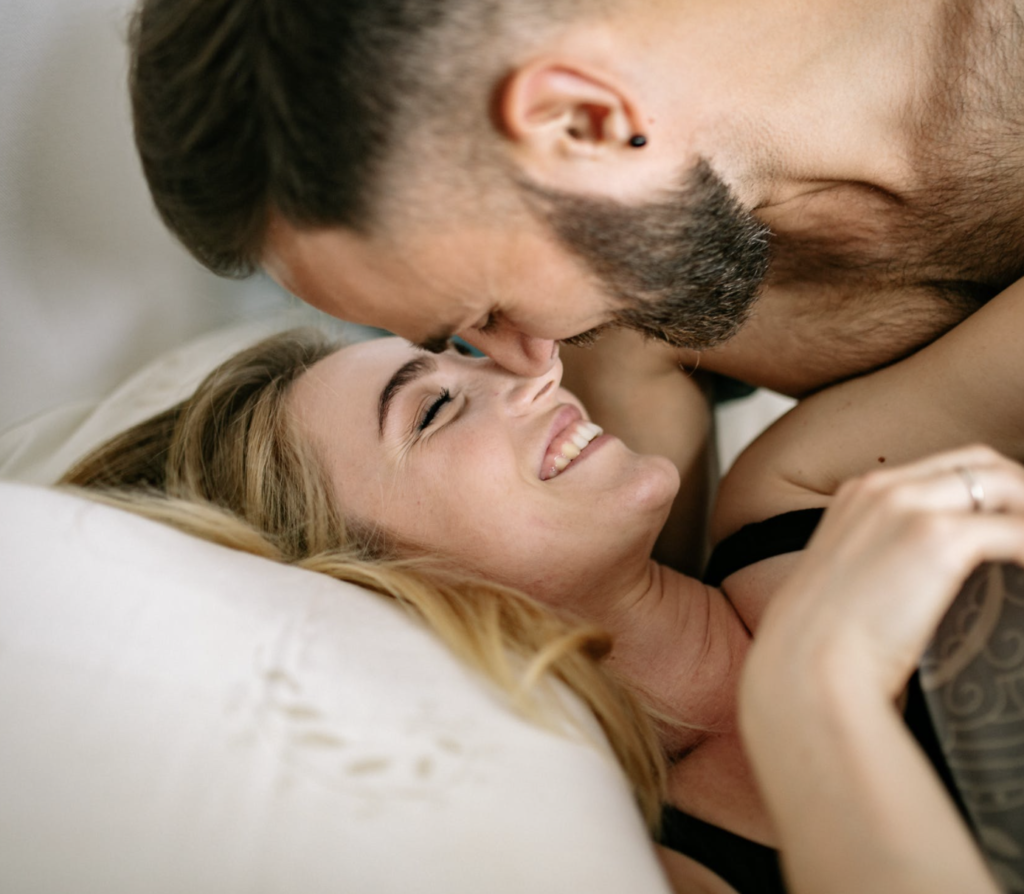 You will have a better marriage and be happier: You will be much happier in your relationship when you are having more sexual intimacy. Don't believe us? See what our poll says.
We did a poll on social media and asked the following questions:
Does sex play an important role in your happiness?
92% YES
8% NO
When your marriage is good, are you having more sex?
91% YES
9% NO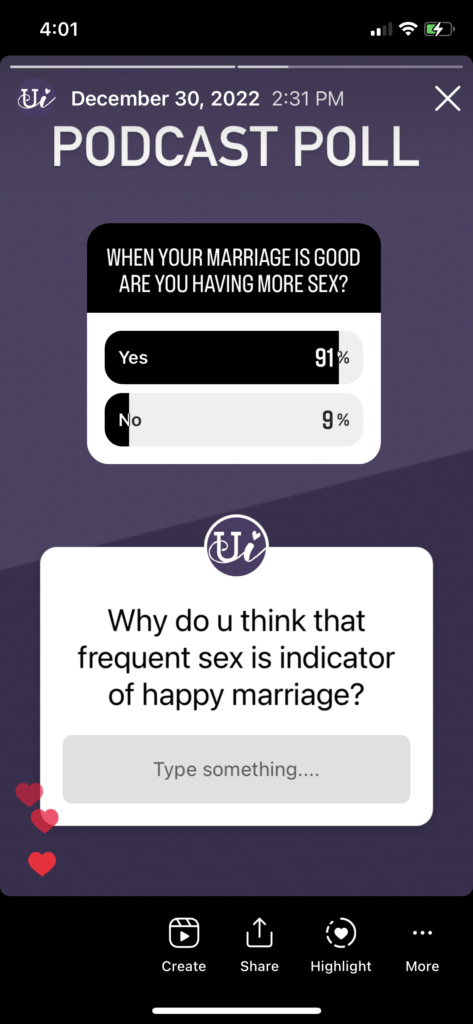 The bottom line is the more frequent sexual intimacy you are having in your marriage, the more likely it is that you are going to have a better marriage.
By prioritizing sexual intimacy in your relationship, you can experience the many benefits that come with it. Don't let stress, busyness, or other obstacles get in the way of connecting with each other and enjoying a healthy and fulfilling sex life. Make the choice to prioritize sex, and see the positive impact it can have on your relationship and overall well-being.
Ultimate Intimacy
For a great podcast check out episode 120. Is Sex A Thermometer That Can Gauge The Temperature Of Your Marriage?

---
The Ultimate Intimacy App is a comprehensive tool designed to help couples improve their sexual intimacy and overall relationship. With features like guided conversations, date night ideas, and a library of tasteful articles and videos, this app offers a safe and positive space for couples to explore their intimacy and deepen their connection. Whether you're looking to spice things up in the bedroom or simply improve your communication and emotional intimacy, the Ultimate Intimacy App is an excellent resource for couples who want to take their relationship to the next level. Find out why over 600,000 couples have downloaded the app and give it a very high rating in the app stores!