Marriage and relationships thrive on connection, intimacy, and shared experiences. When it comes to showing your spouse how much they mean to you, thoughtful gifts that strengthen your bond and ignite passion can be truly impactful.
Whether it's celebrating a special occasion or simply expressing your love, consider these fantastic products designed to enhance intimacy and deepen your connection with your significant other from the Ultimate intimacy Store!
You may also enjoy this great podcast episode: 108. Stuck On What To Get Your Spouse For Christmas?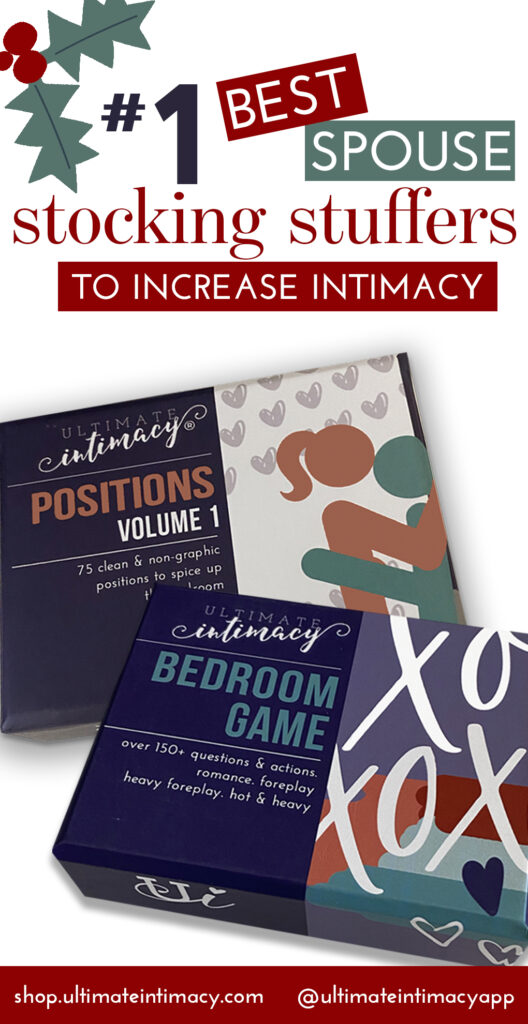 Ultimate Intimacy Date Night Idea Card Deck
Building lasting memories together is essential in any relationship. The Ultimate Intimacy Date Night Idea Card Deck is a treasure trove with over 150 innovative and creative date night ideas. From adventurous outings to cozy nights in, this deck sparks inspiration for quality time spent together.
Whether it's exploring new hobbies, engaging in deep conversations, or embarking on exciting adventures, these cards offer a diverse range of activities to strengthen your connection and create lasting moments.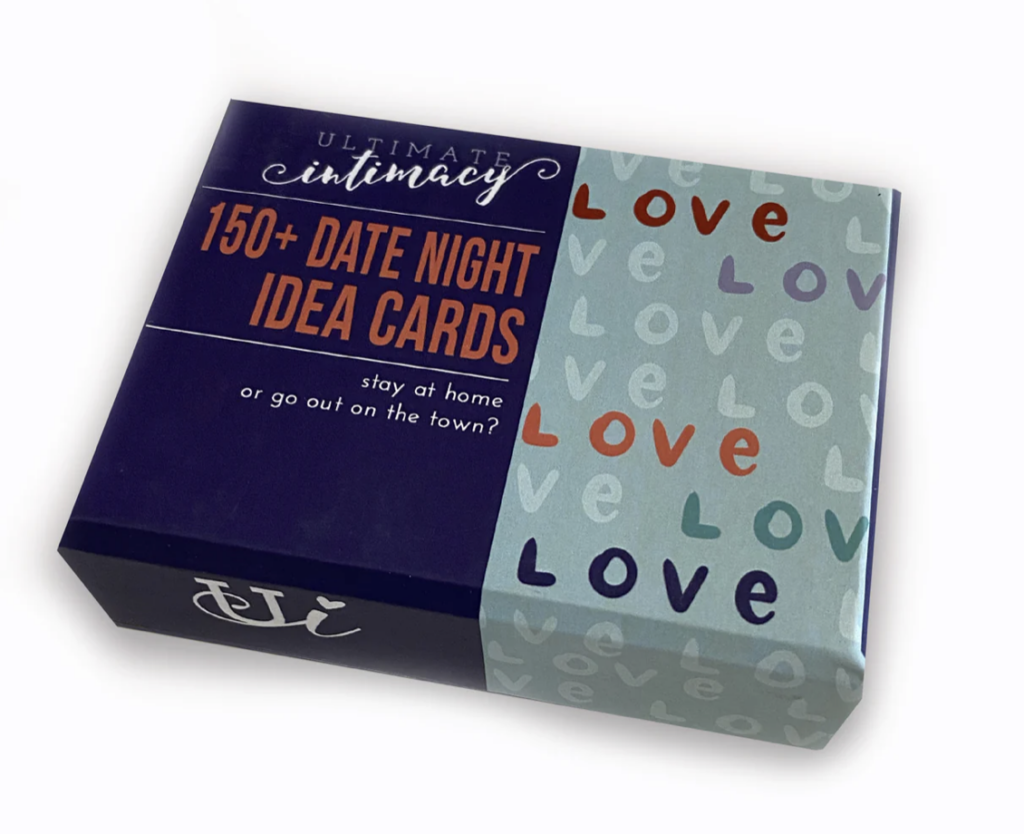 Non-Graphic Sex Position Cards
Communication and intimacy go hand in hand in a healthy relationship. These non-graphic sex position cards provide a comfortable and fun way to explore over 80 intimate positions and instructions without explicit imagery.
It's a tasteful and playful approach to enhance physical connection while prioritizing comfort and respect. These cards encourage open communication, exploration, and the discovery of new ways to connect intimately, fostering a deeper understanding of each other's desires and preferences.
Try some amazing new sex positions to spice things up in the bedroom!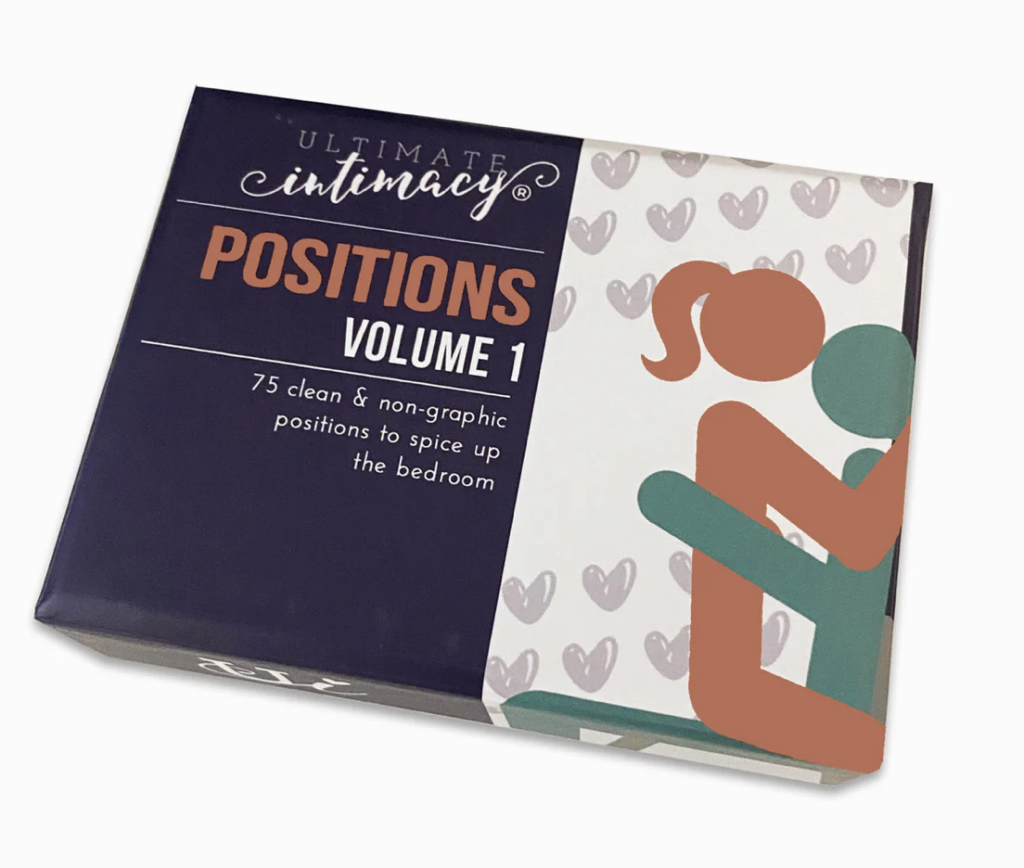 Truth or Dare Intimacy Game
Spice up your relationship with the Truth or Dare Intimacy Game, a delightful blend of fun, intimacy, and spontaneity. This game encourages both partners to open up, share vulnerabilities, and deepen their connection through engaging challenges and thought-provoking questions.
From heartfelt conversations to playful dares, this game creates an atmosphere of trust and closeness, allowing couples to explore new facets of their relationship in a lighthearted yet meaningful manner.
This game is our personal favorite!
Romantic and Sexy Coupon Book
Surprise your spouse with a personalized Romantic and Sexy Coupon Book filled with thoughtful gestures and romantic favors. This book contains a collection of coupons designed for both partners, allowing you to express your love and appreciation in various ways. From a home-cooked meal to a massage session or a special date night planned by your partner, these coupons offer opportunities to cherish and pamper each other, fostering an environment of affection and care within your relationship.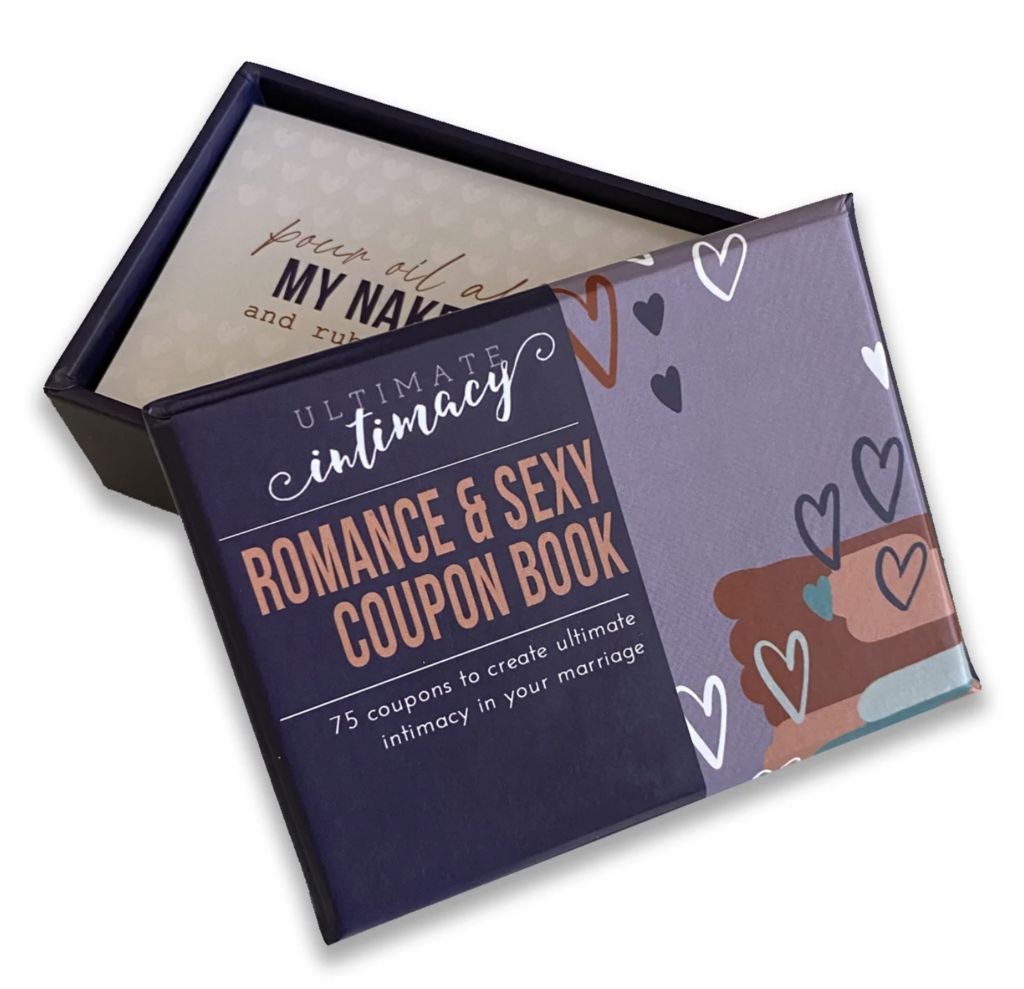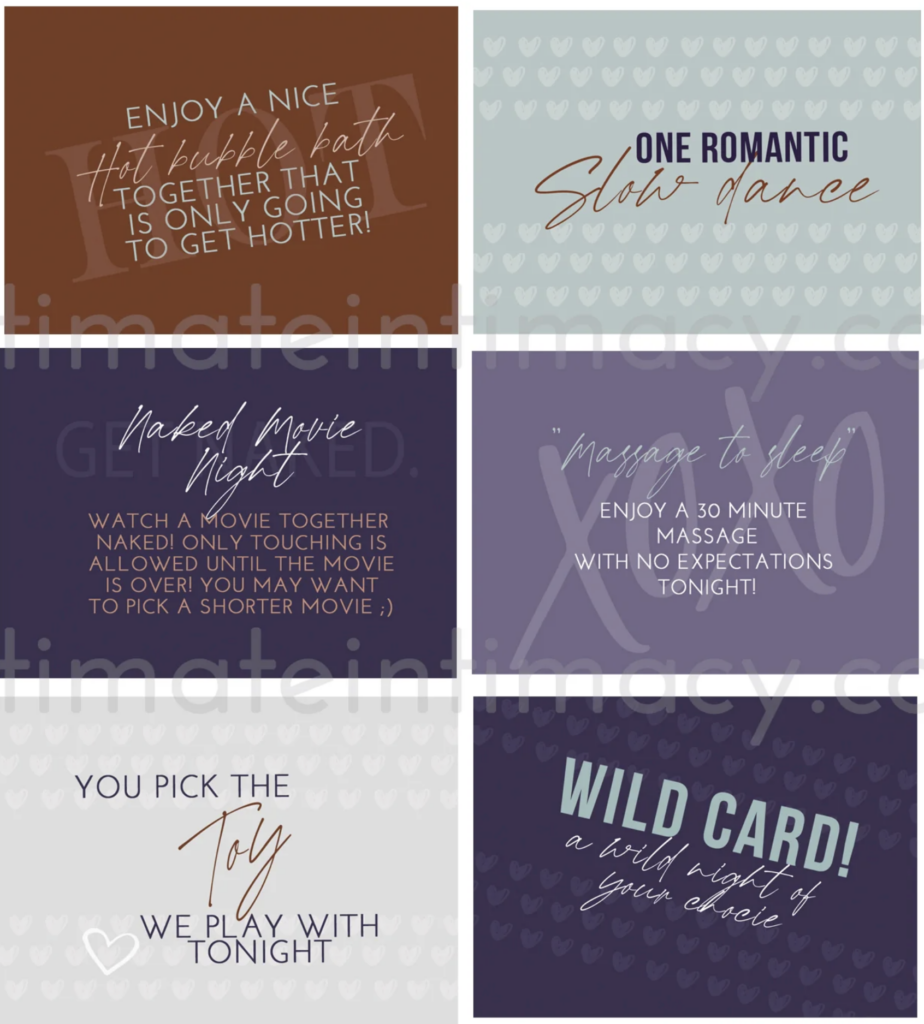 Sexual Intimacy Make Love To Me Scratch-Off Cards
Add an element of surprise and excitement with Sexual Intimacy Scratch-Off Cards. These cards introduce a playful and spontaneous way to explore new intimate experiences. Each scratch-off reveals a different intimate activity, making it a fun and thrilling way to ignite passion and intimacy in your relationship.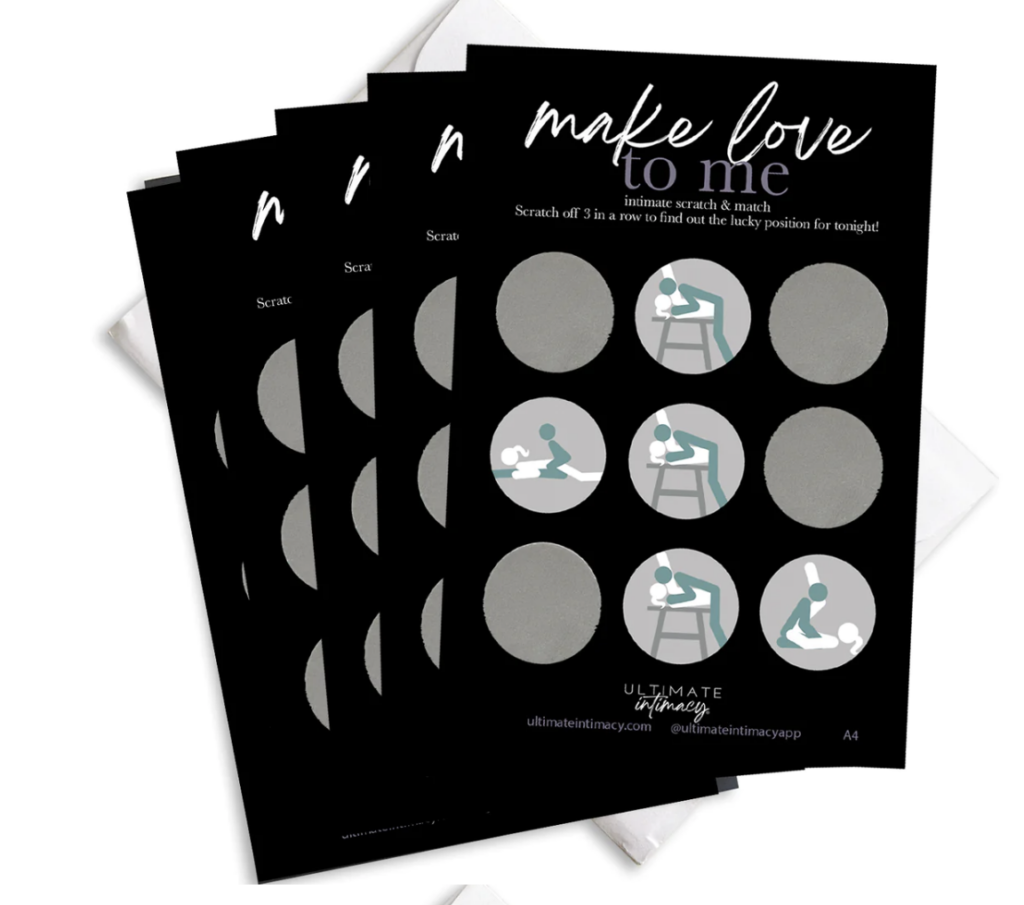 "I'm Initiating" Scratch-Off Cards
The "I'm Initiating" Scratch-Off Cards are a playful and enticing way to discover what the night holds in store. These cards add an element of anticipation and excitement by allowing your spouse to reveal their initiative for the evening, setting the stage for a memorable and intimate experience.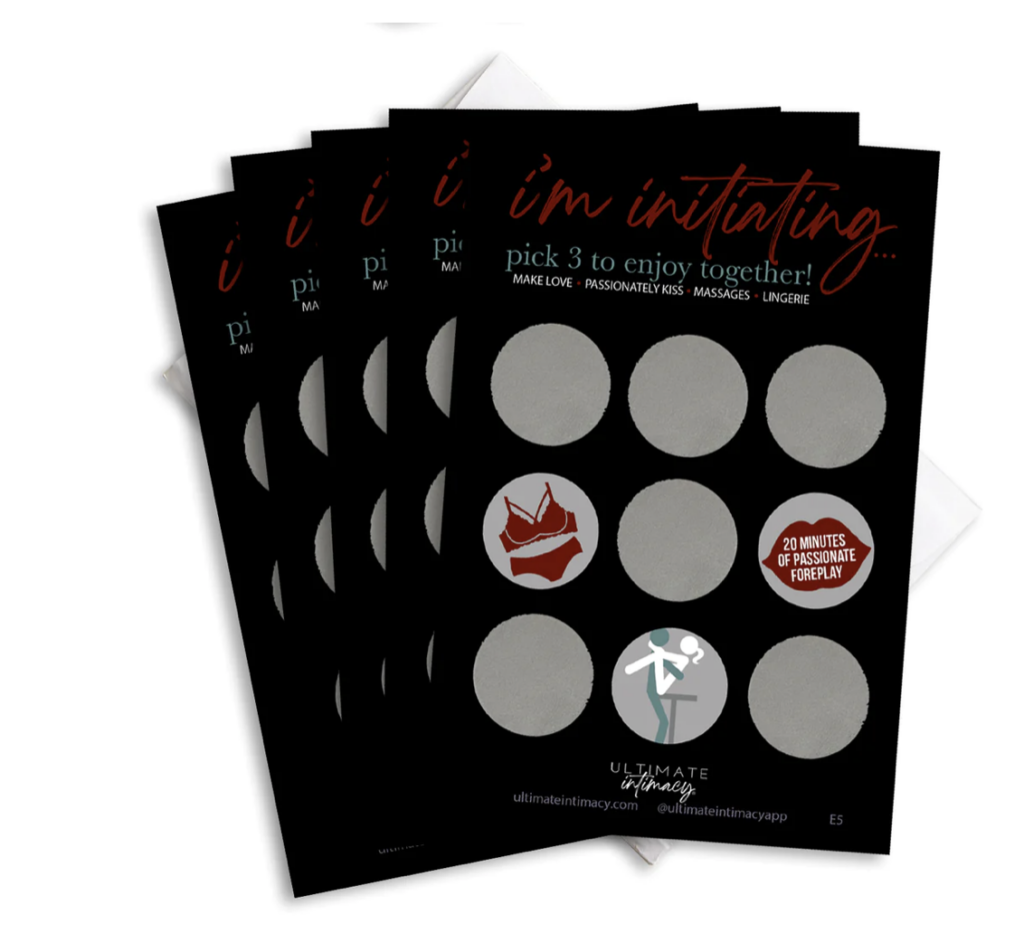 The Ultimate Intimacy "Christmas Intimacy Box": A Celebration of Love and Intimacy
This specially crafted box is a treasure trove designed to enhance your relationship and infuse your holiday season with passion, excitement, and closeness. Discreetly packaged, this box holds a collection of carefully selected items aimed at creating magical moments of intimacy and connection between you and your spouse.
What's Inside?
1. Your Choice of Ultimate Intimacy Game: Select from the Ultimate Intimacy Bedroom Game, Intimacy Truth or Dare Game, Sexy Coupons, Conversation Starters, or 150+ Date Night Ideas. Specify your preference at checkout for a personalized experience.
2. Coconu Lubricant Sample Packs: Experience enhanced pleasure with oil-based and water-based lubricant sample packs, or other lubricants based on availability and stock.
3. Mini Bath Bombs or Bath Salt: Indulge in relaxation with luxurious bath essentials, adding a touch of sensuality to your intimate moments.
4. Romantic Scented Candle: Set the mood and create a cozy atmosphere with a beautifully scented candle, perfect for intimate evenings together.
5. Massage/Body Oil: Explore sensual massages and heightened tactile experiences with the included massage or body oil.
6. Rabbit Vibrating Ring: Designed for clitoral stimulation, this accessory adds excitement and pleasure to intimate encounters.
7. Blindfold: Heighten your senses and deepen connection through sensory exploration with the included blindfold.
8. DESIRE Sample Packs for Him and Her: Discover new dimensions of pleasure with these specially curated sample packs.
9. Tin of Altoids Mints: Freshen up for spontaneous moments with these discreetly packaged mints.
10. Lip Balm: Keep your lips soft and kissable during intimate moments with the included lip balm.
11. Pack of Chocolates: Delight in sweet indulgence together, adding a touch of decadence to your intimate celebrations.
12. Snowflake LED Lights: Create a romantic ambiance with these charming snowflake LED lights, perfect for setting the scene for intimate moments.
13. Set of 5 Naughty and Nice Holiday Scratch-Off Cards: Add excitement and anticipation to your holiday celebrations with these playful scratch-off cards, sure to spark laughter and intimacy.
The Ultimate Intimacy "Christmas Intimacy Box" is not just a gift; it's an experience designed to deepen your connection and create lasting memories of love and passion during the festive season.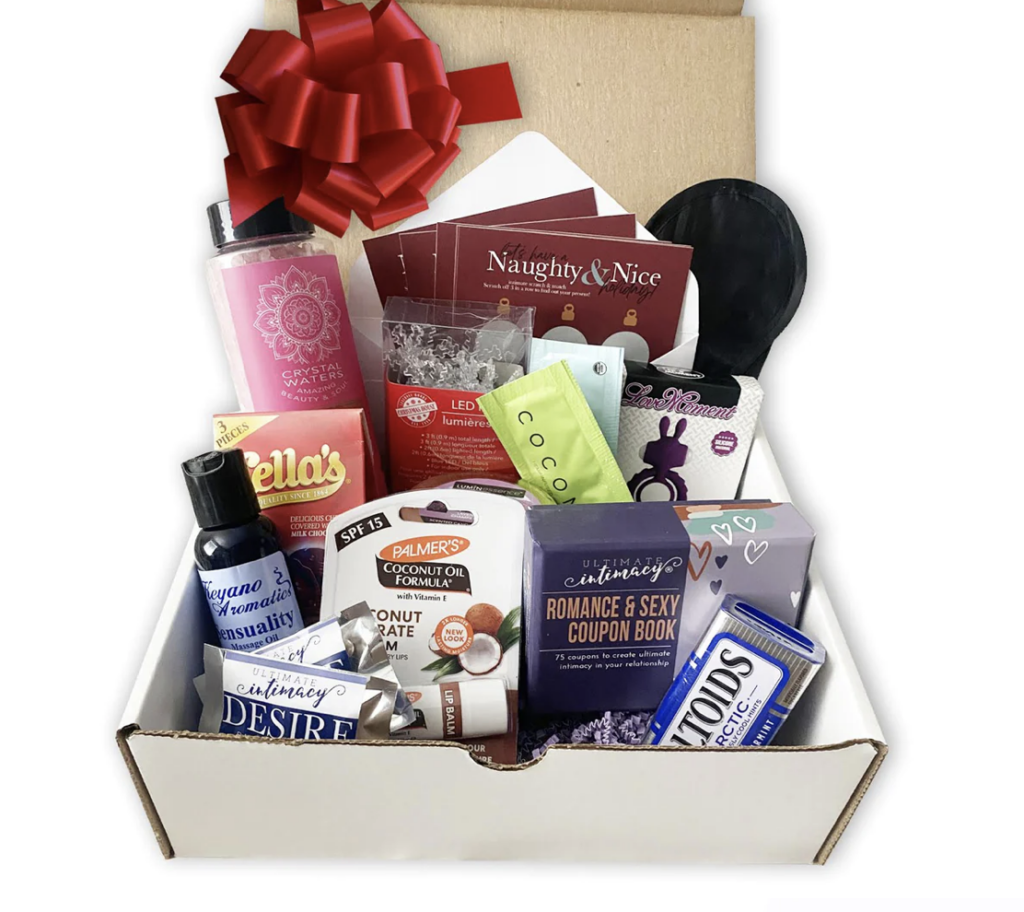 The Ultimate Intimacy Vibrator
This is hands down the most amazing product we have every used!!
The Ultimate Intimacy Vibrator will enhance your loving making and take your sexual intimacy to a new level. This is great tool to use during foreplay, to help her get in the mood, and to reach orgasm much easier through direct stimulation to the clitoris.
The vibrator has several vibration levels/speeds so you can find what works best. It also has a suction option which simulates oral sex, that can also be adjusted to stimulate the clitoris. Many couples also like to use the vibrator on the outside as well for direct clitoral stimulation.
There are various modes and ways for this versatile product to be used.
Trust us, she will thank you for it.
♥Luxurious clitoral suction stimulator
♥10 levels of compelling intensity
♥USB Rechargeable
♥Material: Silicone
♥Rechargeable and waterproof
Also comes with a storage/travel bag, and charging cable.
Free shipping in the US and comes in discreet packaging. Comes in either pink or purple.
FACT – DID YOU KNOW THAT AROUND 80% OF WOMEN CANNOT ORGASM THROUGH INTERCOURSE ALONE? THE CLITORIS IS THE KEY TO UNLOCKING FEMALE PLEASURE.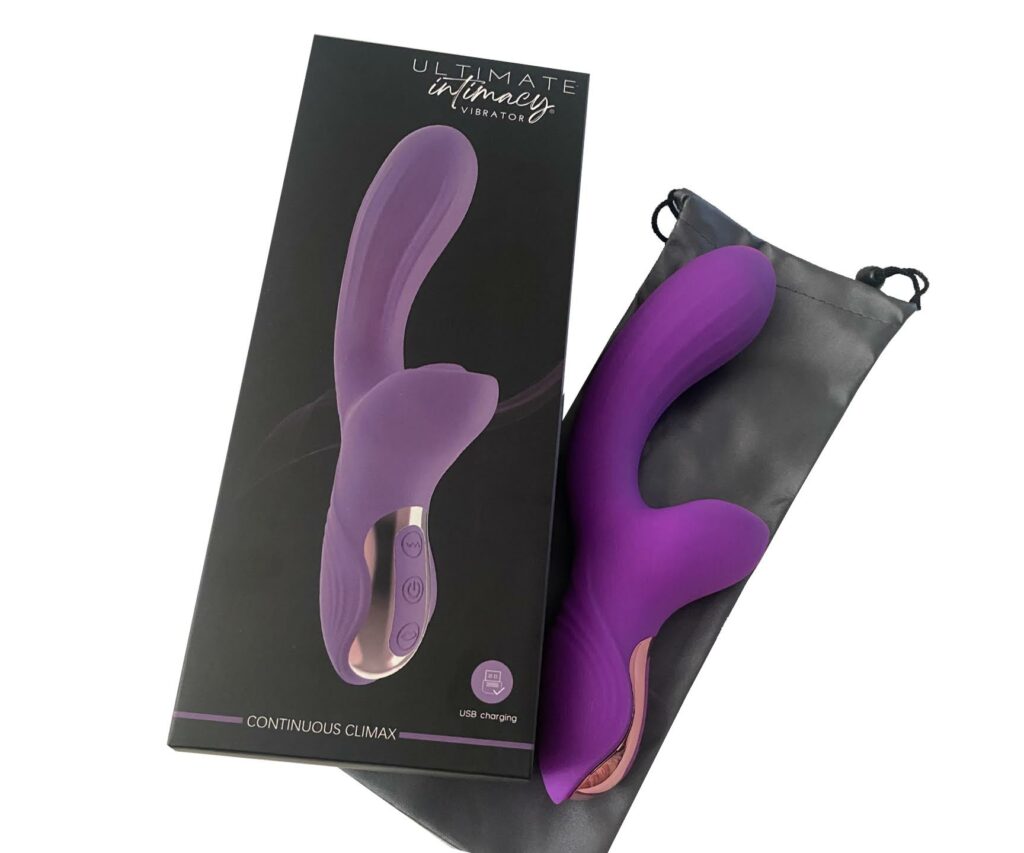 Conclusion
Remember, the most meaningful gifts are those that strengthen the emotional and physical connection between you as a couple, creating lasting memories and fostering a deeper understanding and appreciation for each other. Consider these products to surprise and delight your spouse, elevating your relationship to new heights of intimacy and love.
Get 10% off when you enter promo code UIAPP at checkout and get free shipping in the USA! Just click on the more info button below to see all of our great products!

Ultimate Intimacy
Check out the most amazing app ever developed for married couples called the Ultimate Intimacy App! Trust us, your relationship will never be the same. Download today!