It's time for Sexy September YAY!
Now even though we are saying "Sexy September" this challenge is for any time of the year!
Are you ready to join us and dive headfirst into a month of intense romance, fiery love-making, and unbreakable connection?
We have all tried a new diet or set a new goal, and have laid out a plan and agenda for this goal right? It helps to have structure and direction… and this is exactly what we have created for your marriage! It is an entire month plan and it's not just a recharge; it's a Relationship Revolution that's guaranteed to ignite fireworks no matter where your intimacy stands!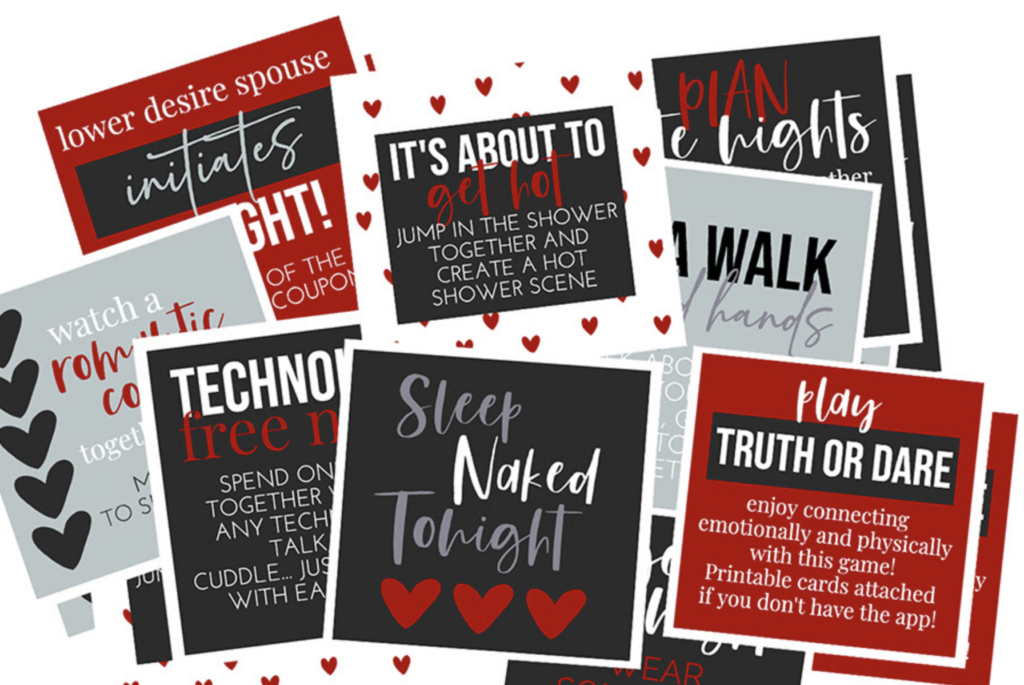 Wave goodbye to ordinary marriage challenge calendars you cross off each day, and say hello to an ultimate bundle of pure relationship recharged activities!
You get to choose your own adventure by picking and choosing challenges that resonate with you and your spouse.
But that's not all – we've prepared a stunning assortment of printable love notes, a position poster, initiation cards, plus an array of date night concepts and a shared bucket list that will help you plan together and take your date nights from routine to exciting!
Remember, a joyful marriage thrives on intention!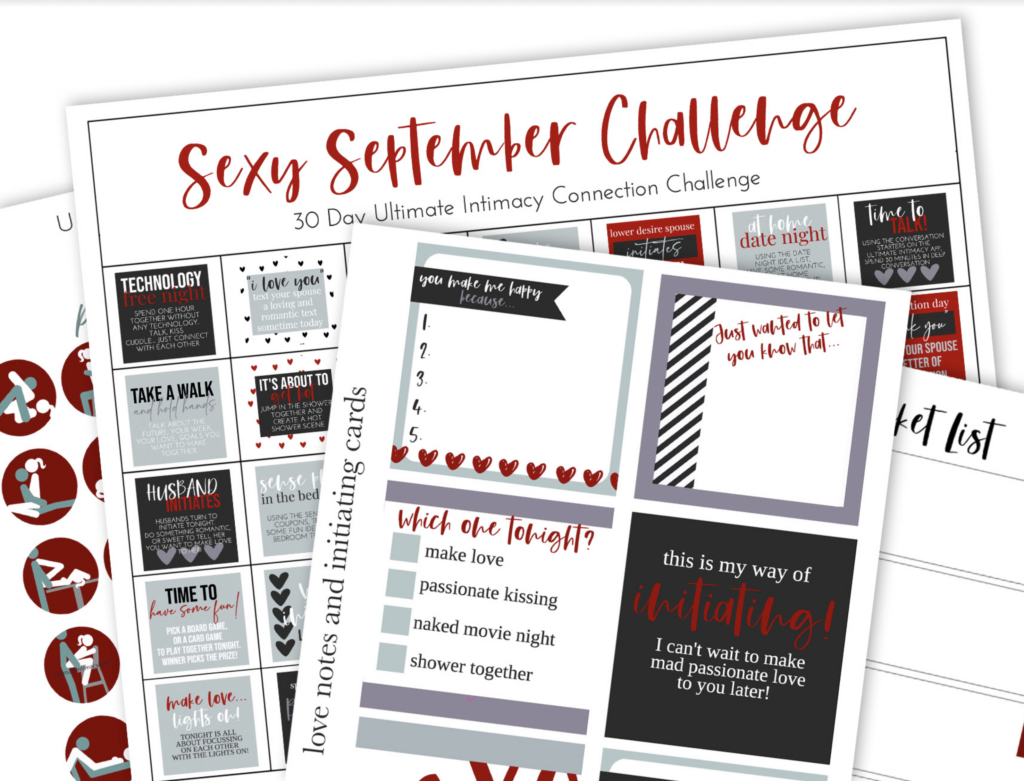 In this Month Marriage Challenge, you will receive:
Sexy September Challenge Cards (cross off or pull from a bowl for random challenges)
September Month Calendar (cross off at your own pace)
Love Notes/initiating cards (need help initiating)
Position Chart (tons of position ideas to mark off)
Bucket List (different topics for you to discuss together)
Date Ideas (even better when your NAKED!)
Truth or Dare Mini cards (for some hot challenges and HOT conversations!
ONLY
$5.99

In our bonus podcast episode released today, we talk all about this challenge, why you should check it out, and everything you will receive!
Plus… there are several fun ways to implement this challenge if you don't just want to cross off a task each day! We hope that you will connect deeper and more intimately this next month!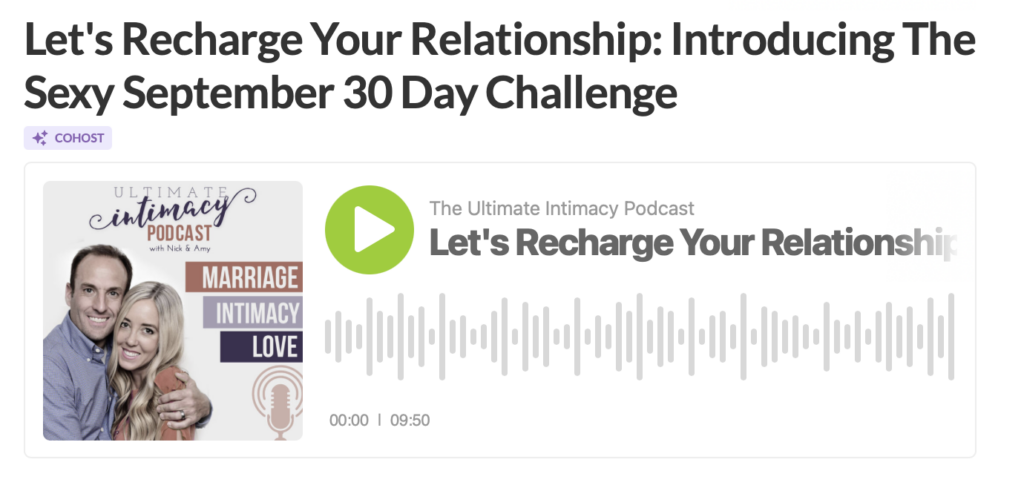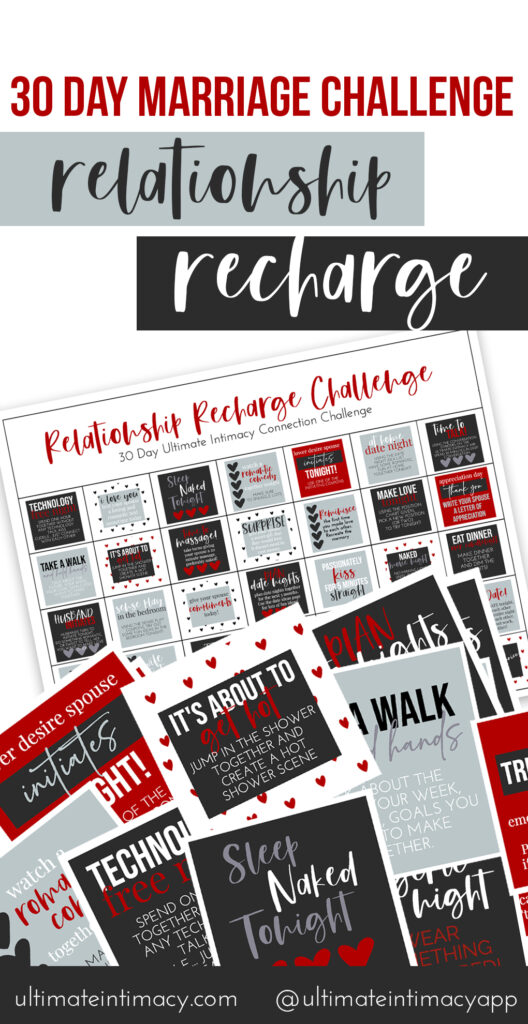 For the best marriage app on the market with hundreds of resource articles, free printable's, bedroom games, non graphic sex positions, and much more to spice things up and bring you closer together as we couple, then check out the Ultimate Intimacy App! The app has a 4.8/5 star rating and has been downloaded over 650,000 times. Find out how you can transform your marriage just like hundreds of thousands of other couples.
Download for free today by clicking on the picture below.