Attending a marriage retreat could be helpful for couples who want to deepen their emotional and physical connection, enhance their communication skills, and work through any challenges or issues they may be facing in their relationship. Marriage retreats often offer a variety of activities, workshops, and counseling sessions aimed at helping couples build intimacy, trust, and understanding.
Additionally, attending a marriage retreat can provide a safe and supportive environment for couples to address sensitive topics and work through difficult emotions. Retreats are typically led by experienced therapists or relationship coaches who can guide couples through the process and offer valuable insights and tools to help them strengthen their relationship.
A marriage retreat is a program or workshop designed to help couples strengthen and improve their relationship. Here are some of the benefits that married couples can gain from attending a marriage retreat.
Improved Communication
Communication is key in any relationship, and this is especially true in a marriage. When communication breaks down, misunderstandings, hurt feelings, and resentment can build up. A marriage retreat provides couples with an opportunity to learn new communication skills and strategies that can help them express their feelings and needs more effectively. They can also learn how to listen actively, which is an essential aspect of good communication.
Renewed Intimacy
Over time, it's natural for the spark of intimacy to fade in a marriage. Busy schedules, stress, and other factors can take a toll on a couple's sex life. A marriage retreat provides couples with an opportunity to focus on their relationship, without the distractions of everyday life. They can participate in activities and exercises that are designed to help them reconnect and rekindle their passion for each other.
Improved Conflict Resolution Skills
No marriage is free of conflict, but it's how couples deal with conflict that makes all the difference. A marriage retreat provides couples with an opportunity to learn new conflict resolution skills that can help them resolve disagreements in a healthy and constructive way. They can learn how to express their feelings without attacking their spouse, and how to compromise and find solutions that work for both spouses.
They can identify and also break down any barriers that are keeping them from having the sexual intimacy they desire in the marriage.
Time to Focus on the Marriage
In today's fast-paced world, it's easy for couples to get caught up in their daily routines and neglect their relationship. A marriage retreat provides couples with an opportunity to step away from their busy lives and focus solely on each other. They can spend quality time together, talk about their hopes and dreams, and make plans for the future.
Learning from Other Couples
A marriage retreat typically involves group activities and discussions, which provide couples with an opportunity to learn from other couples. They can see how other couples deal with the same issues they are facing and gain new insights and perspectives. This can be inspiring and informative, and can help couples feel less alone in their struggles.
THE INTIMACY AND ADVENTURE RETREAT
The Intimacy and Adventure Marriage Retreat is a retreat put on by the owners of Ultimate Intimacy. The event takes place in one of the most beautiful places in the world, St George Utah, only 90 minutes from Las Vegas. The Intimacy and Adventure Retreat takes place over the course 4 days (3 nights) and has over 8 hours of instruction focusing on several topics such as:
Communication
Barriers that keeps couples from connecting intimately
Understanding the differences in sexual desire (men and women)
Your own adventure into deeper sexual intimacy
Creating a plan
And other topics to help couples connect on a deeper level sexually and emotionally
The retreat includes all meals (exceptional food), hotel accommodations, instruction with certified experts/coaches, all activities and fees. The retreat is an amazing deal for ONLY $2,800 per couple!
Hear what other couples have to say about the Intimacy and Adventure Retreat!
Just fantastic. Nick and Amy went out of their way to make everything excellent. They gave their time and energy to everyone who came to the event and made us in particular, feel like we have been their friends for years. Greg and Julie nailed the training like the professionals they are. They drew us in with the reality of their struggles and demonstrated the love that can grow from the ashes of a marriage once on fire. We just loved it and look forward to attending again in the future.
The caliber of the speakers was exceptional, their focus on connection as a couple as a way to improve intimacy was on point. The retreat had a very centered approach to difficult topics and provided practical tools to improve both your marriage and intimacy.
This was a great gift to our struggling marriage. We're in a busy season of life right now and it was great to have the means to step back and reflect on what we want our marriage to be, and learn about ways we can get there. It was perfect to have a mix of "serious" activities and new experiences (hiking) together and remind us that we can still have fun together. The retreat was well organized and the speakers were engaging and fun!
Some of the activities include an amazing guided hike, side by side through the gorgeous scenery, canyons and red sand desert. There are also additional activities that you can choose to do while you are in the area with Zion National Park only 35 minutes away, and the Grand Canyon, Bryce Canyon and others within a few hours.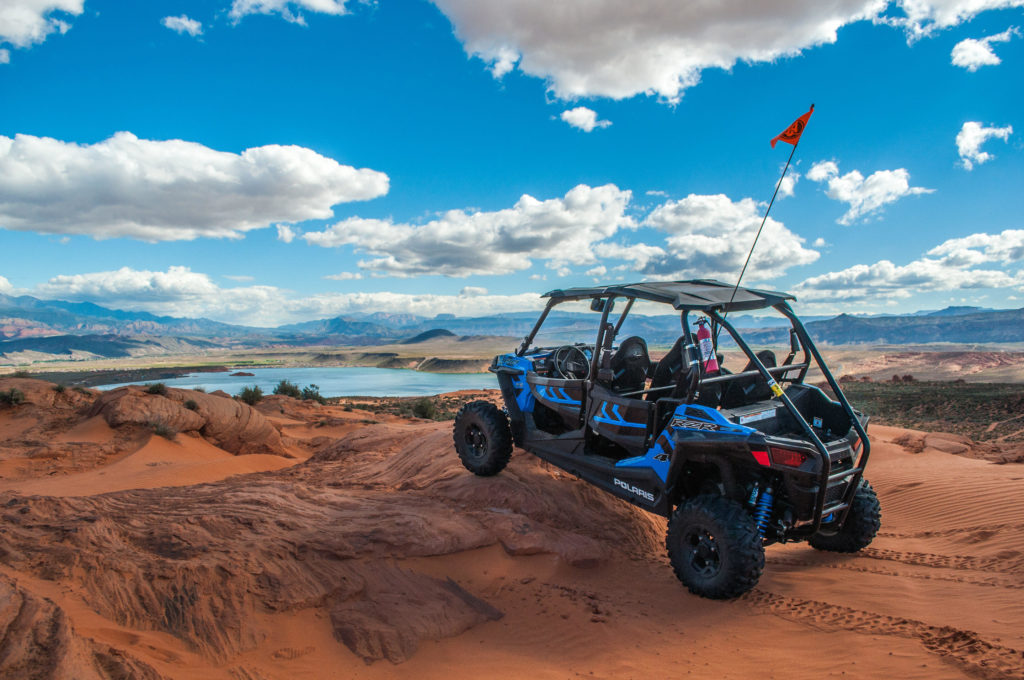 Overall, attending an ultimate intimacy marriage retreat can be a powerful way for couples to invest in their relationship and prioritize their connection with each another. You can learn more about the retreat HERE.
You can also listen to a recap of the last retreat in the podcast episode 149. The Intimacy And Adventure Retreat Recap. So come join us for an amazing retreat in the future and let us know if you have any questions by emailing us at [email protected]
Ultimate Intimacy
---
Can't join us for the retreat? Then check out the amazing Sexual Intimacy Marriage Course that can help you with communication in and out of the bedroom, and identify any barriers that are keeping you from having the sexual intimacy you desire! Just click on the picture below to learn more.