Check out our podcast of why we created the Ultimate Intimacy App HERE
Many of you have already heard the story of the Ultimate Intimacy App and how it came to be, but you may not know how much it transformed our marriage to what it is today. Now having said that, it doesn't mean that our marriage perfect or we don't struggle with things because we do, but now we know "how" to deal with struggles, have difficult conversations and our marriage is much easier and happy.
The whole reason we built the Ultimate Intimacy App is because we saw how it transformed our marriage and believed there are millions of other couples out there that were probably dealing with the same struggles we were and were looking for ways to find "Ultimate Intimacy" in their relationship again. They Ultimate Intimacy App offers SO MANY features, ideas and ways to help change your marriage. So lets discuss the features and ways the app can help transform your marriage!
Conversation Starters and Would U Rather Questions
We talk about this all the time in our articles and on our podcast about how almost every issue could probably be resolved (or at least better understood) with good communication. But sometimes it is very difficult to have those tough conversations, or bring up topics that are uncomfortable to discuss. Many of us shy away from those tough topics or conversations and think if we just don't talk about them, then things will be fine but the opposite tends to happen.
When we started talking about tough things in our marriage, and even the conversations about sex and our likes, and dislikes in the bedroom, it was amazing how vulnerable we became and now we can talk about anything. The conversations starters are a great way to bring up conversations about sex, intimacy, money/finances and many other things in a natural way to open up the communication. Let's face it, if you can talk about sex and some of the deepest things, you can probably talk about anything.
We get so many people messaging us telling us how the conversation starters have changed their marriage! They discuss topics and things they never even thought of and get to know each other on such a deeper level which of course, creates a stronger bond and intimacy together.
Would U Rather: The Would U Rather game and questions is a great way to have some fun and exciting conversations to find out things about your spouse that you would have never thought to ask! Would you rather go to jail for a crime you didn't commit or have someone else go to jail for a crime you committed? Would you rather come home to your spouse naked, or dressed up for you? These are just a few of the fun questions we have on the game.
Resources and Articles
We have over 250+ articles and resources on:
Physical Intimacy/Sex – Learn everything you can about Sexual Intimacy In marriage
Emotional Intimacy – Articles that talk about everything out side of the bedroom
Anatomy – Learn how your spouses body works, what turns them on and so many other things about their body and sexual organs
Technique – So many amazing techniques, positions and ways to create more fulfilling sexual intimacy in your marriage.
Communication – Ways to help communicate better and more effectively
Finances and Money – As finances and money are one of the leading causes of divorce, we help you learn how to manage and budget money and stops those arguments
Dating in Marriage – Date night ideas, and reasons you need to keep dating your spouse
Better Health for Better Sex and Intimacy – How to be healthier and have better intimacy
For Newlyweds – Learn things that we wish we all new as newlyweds
Sexual Dysfunctions – Learn about the different sexual dysfunctions and how to address them
Overcoming Pornography – Great article on how to deal with, and address pornography struggles
Love Lists
Self Love – If you can't love yourself, how are you going to love your spouse? Great articles about how to love yourself so you "can" love your spouse more
Frequently Asked Questions – We tackle some tough questions such as what is ok and not ok in marriage
Blended Families – If this is your second.. or third marriage, we have experts that share their wisdom and insight on blended families
Raising Kids – We all need help on raising kids and keeping our marriages vibrant and exciting
Marriage and Relationship Experts and Coaches – Find a great relationship expert and coach
Expert Videos
Podcasts
Ultimate Intimacy Coupons and printables – We have great marriage challenges, and printable to make things fun and exciting!
We all need help with different aspects in our marriage to help us learn and grow and we have hundreds of articles and resources written by marriage experts to help you navigate the many waters of marriage.
Language of Love Quiz
No matter how much we love our spouse, if we don't understand their love language and "how" they feel loved and speak that language to them, they are not going to feel loved in the relationship. Our language of love quiz helps identify what your love language is. Take this quiz with your spouse and learn each others love language so you can speak that language to them 🙂
Take this quiz often as a love language can change over time based upon the stage of life. The different languages of love are:
Gifts
Time
Appreciation
Service
Touch
If your spouse's love language is time, give them time with you! If their love language is appreciation, tell them often how much you appreciate all they. Understand their love language and you will see your marriage transform.
Intimacy Games and Sex Positions
It is amazing what playing a new game, or trying a new sex position can do to spice things up in your marriage. As mentioned above, it is very uncomfortable for most people to talk about sex or these type of things with their spouse for the fear of being rejected, or having your spouse wonder where these ideas are coming from.
Some people feel uncomfortable with oral sex or other ideas when it comes to the bedroom. We designed the game and positions the way we did so that people can customize the game, and feel comfortable. If the game is asking the questions, you can learn what your spouse is comfortable with, and not comfortable with. Also, it opens up great opportunities to communicate in the bedroom to share your likes, dislikes and learn more about each other sexually.
Trying new things in the bedroom can be a game changer for both spouses and get you out of a boring routine and spice things up in the bedroom and make sex much more enjoyable for both of you. But most importantly, learn about each other and what each others desires, fantasies and likes/dislikes are.
The Bedroom Game: The couple fills out their names and sets a few simple settings for the gameplay. The game has 4 levels, Romance, Foreplay, Heavy Foreplay and Hot and Heavy and the game can be customized to fit your desired comfort level and preferences.
When the game starts, couples take turns doing specific actions to each other. The prompts are random and gradually build up to hotter activities. There are many prompts built in so you can play over and over and still get a different experience each time. You can even add in your own prompts!
Truth or Dare game: Take turns picking "truth" or "dare" where you will have to answer intimate questions, or do a dare. This bedroom game is sure to turn up the heat in the bedroom.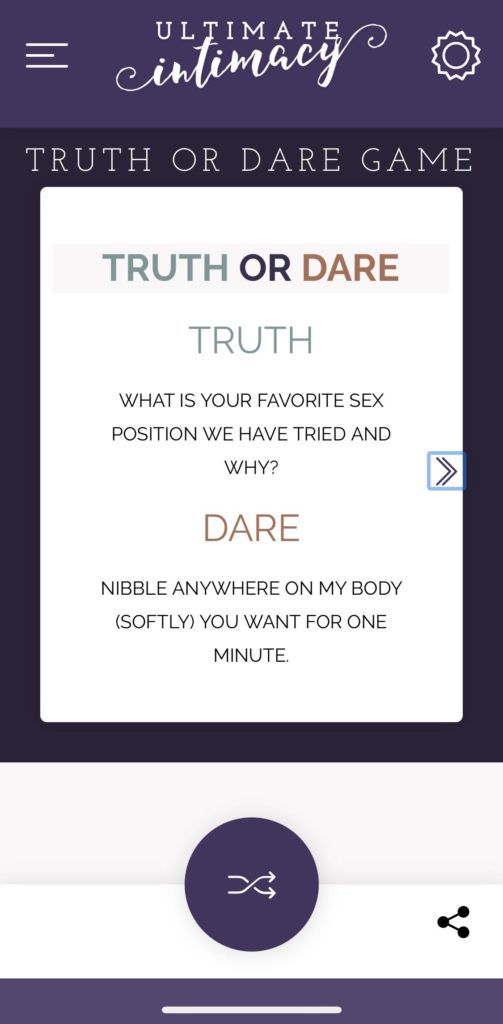 Sex Positions: There are over 200+ non-graphic sex positions to try with many different categories to choose from such as wife on top, standing, kneeling, from behind, and many others to keep things fun and exciting!
*Positions only available on iPhone.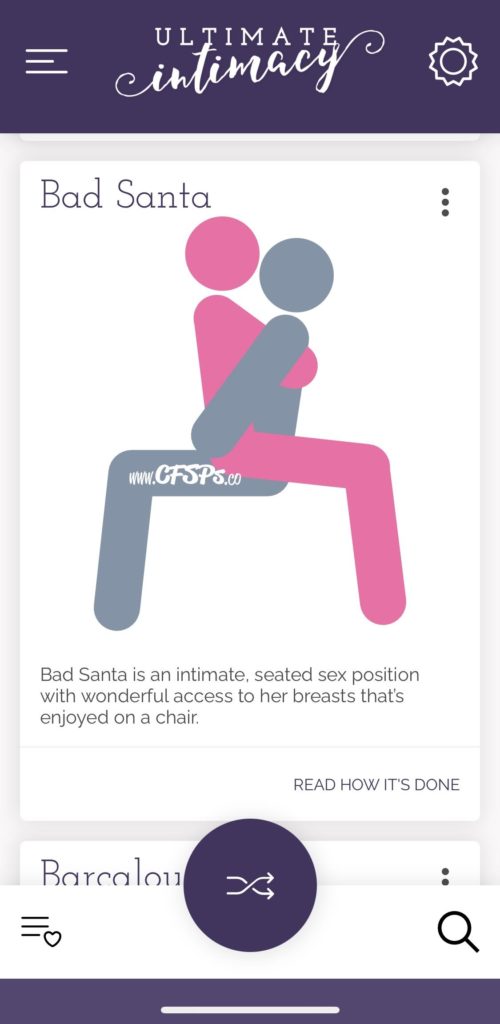 Intimate Chat
Send your spouse sexy text messages or pictures without having to worry about anyone else seeing them or risk sending something to someone else accidentally 🙂
The intimate chat is a great way to let your spouse know how much you love them and to start the foreplay even when you can't be there together.
Travel
We've partnered with one of the premier travel companies in the industry to put together some amazing travel packages! One of the best and most exciting ways to connect with your spouse and rekindle your marriage is to go on a vacation together.
We have amazing travel packages, destinations and deals through our travel partner to places such as Belize where you can see mayan ruins, snorkel and swim with sharks, and relax on an amazing beach with crystal blue waters. We also have cruises, and couples retreats where you can come learn from marriage experts.
Products
For a long time in our marriage, we were against using sex products such as a vibrator, or vibrating ring as we thought they would take away from our sexual intimacy but nothing could be further from the truth as these things have improved our sexual intimacy greatly!
We always ask the question when it comes to products and ask "will it help or hurt our relationship and bring us closer together or further apart" and we make our decisions based on that question.
There are so many great products out there to help make sex so much more enjoyable (especially for the woman). Sometimes we need a little bit of help and that is ok as well! And… we as men know if it is more enjoyable for our wife, it is more enjoyable for us. We offer great products through the Ultimate Intimacy App from our branded products to our affiliates.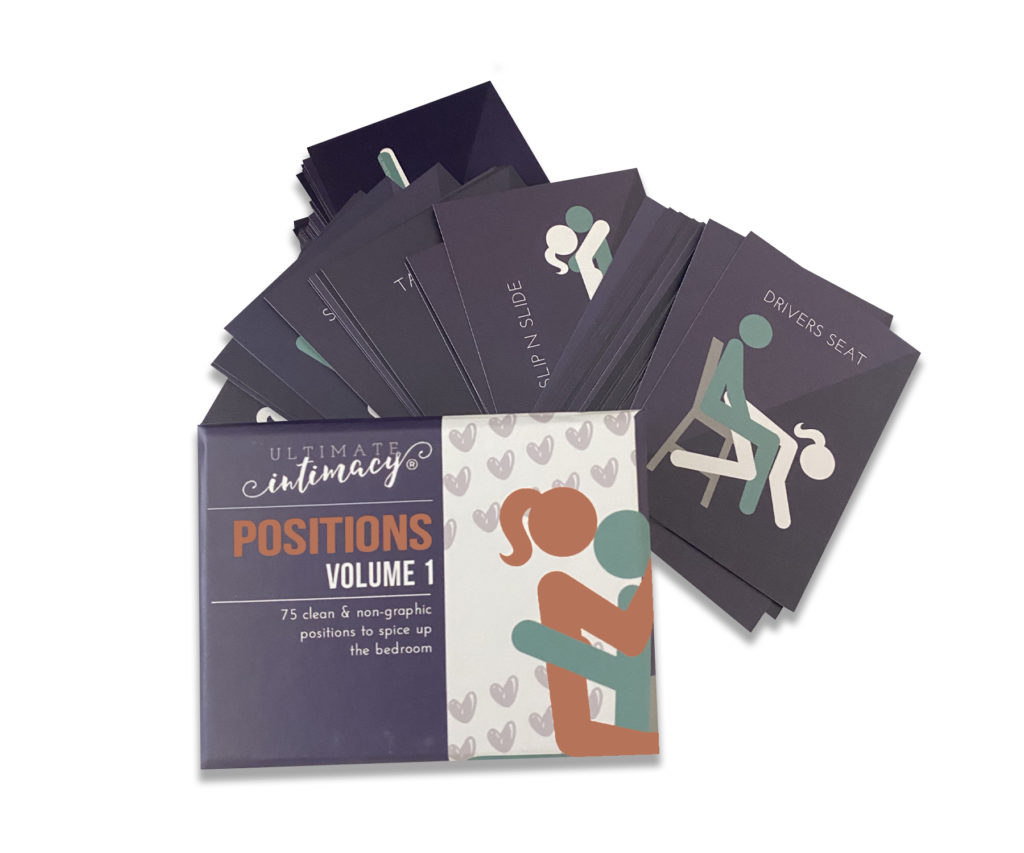 The Ultimate Intimacy App has so many features, articles and resources to help take your marriage to another level. And because it was built with the help of marriage experts, you can trust you are getting the best material from experts that know what they are doing.
The Ultimate Intimacy App is a safe place to learn about all aspects of marriage and intimacy without having to see any pornography or material that is not inline with your values. With thousands of 5 star reviews and a 4.8/5 star rating in the app store. Download the Ultimate Intimacy App for free today in the App Store.