"Time is your most precious gift because you only have a set amount of it. You can make more money, but you can't make more time.
When you give someone your time, you are giving them a portion of your life that you'll never get back. Your time is your life. That is why the greatest gift you can give someone is your time.
Relationships take time and effort, and the best way to spell love is "T-I-M-E." – Rick Warren
Why time is the most precious gift you can give.
Your time is the most precious gift you can give, especially during the holidays. Why is that? Because your life is made of time. Going back to the quote above, we can understand that proving that our relationships are most important to us mean giving up of our precious time. Giving the people we love most, our time, can be the most valuable gift you can give them. The best way to show you love someone, or especially your spouse, is to give them some of your time and full attention.
A few days ago my wife asked me what I wanted for Christmas, probably expecting to hear a response from me such as "a new pair of shoes" or "golf club", but honestly that was the last thing on my mind and she probably wasn't ready or expecting to hear my response I was going to give 🙂
Backing up a little bit, last year Amy surprised me with an Ultimate Intimacy Coupon Book. You may think that is the funniest thing in the world considering Amy and I are the owners of the Ultimate Intimacy App, but honestly, it was the most amazing gift I have ever received and we had so much fun together!
Since the day my wife told me 4 years ago that she wanted to build a marriage and intimacy app, our relationship, marriage, intimacy, communication and many other aspects of our marriage have improved significantly and our relationship continues to grow and develop.
Is our marriage perfect? Of course not, it is far from perfect. But where we are now from where we came from is amazing, as we went from being in a very tough place in our marriage to something much more beautiful and special in just a few years since creating the app. I know many people are experiencing this same thing as well as we hear great stories and feedback from many of the people that use the Ultimate Intimacy App.
So when Amy asked me what I wanted for Christmas this year and I responded to her that the only thing I wanted was another Ultimate Intimacy Coupon Book, she laughed and asked if I was serious?
Well you now know I was serious because here it is! Our new coupon book with some great coupons presented in a fun way to give to your spouse, and I promise you this will be the best gift you could ever give. We also got some great ideas from many of you as well through your feedback on instagram, so we thank you for that.
The coupon book is amazing and your spouse will absolutely love it! There is no greater gift than being intimate with your spouse and spend quality time together to draw closer together as a couple, especially in this busy season.
Check out the Ultimate Intimacy Coupon Book just in time for Christmas (or any other time). The Coupon Book is free to download and includes 17 "Romantic" and "Sexy" coupons that your spouse is sure to love! Download, print and give to your sweetheart for a gift they will never forget! Here is just a sneak peak of what you will find 🙂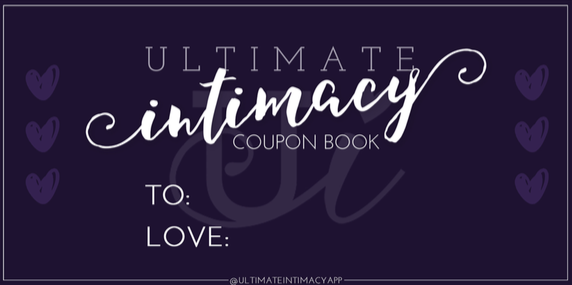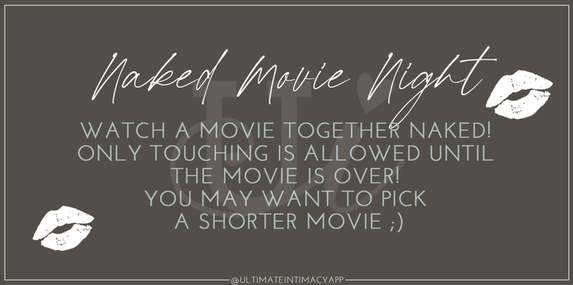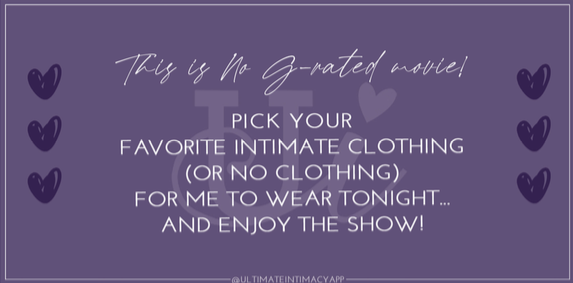 The coupon book is found in the Ultimate Intimacy App (free on the App Store or
The coupon book will come as a downloadable PDF file for easy printing.
We also have a printed set if you want to give these as a physical gift! Link at bottom of page.
The reasons why your spouse will want these Intimacy coupons over any other gift:
It will bring you closer together in several ways
There is no technology involved (besides playing Ultimate Intimacy)
You are making your spouse top priority in your life
This gift will ensure that you focus on each other
You are showing a lot of commitment with your time which shows "I love you"
You will touch each other which is a huge and important aspect of marriage
Your spouse will be waiting to give you a coupon all day long 😉
The more intimate you become, the more you will crave it.
You will make new memories with each other
You can give print and give the coupons that you want
Add spice to your marriage
You have choices between going out and staying in
There are fun gifts you can give with each coupon to make it a real present
More benefits of giving your time.. especially this Christmas
Your gift of time, especially during the holidays is priceless. You will have no idea how valuable your gift of time will be to your spouse. You will be making them feel heard, and appreciated.
Simply by being there for your spouse at this time of year can make a difference! Your kindness and attention can give your spouse more than one gift. More benefits are:
A boost to their happiness and a smile on their face
A boost to their well-being
A stronger immune system from love-making
A reduction in stress levels – intimacy lowers stress levels it is proven
Reduced anxiety from less stress
More confidence to tackle and resolve issues together as a couple
Aren't these all amazing and positive outcomes from a gift of time that has cost you nothing in financial terms, but can mean the world to your spouse and the person you have dedicated your life to?
Giving your time, attention, and whole heart at Christmas is a gift that keeps on giving, no only to your spouse for you also.
The coupons include:
positions of choice, massages, "nooner" 😉
Matching and fun gifts to go with the printable coupons or the physical card deck:
If you want to make these coupons a more elaborate gift, here are some ideas of some items you could attach to each coupon.
Naked Movie Night Coupon- you could give a blanket to snuggle up in, or a DVD you know they would like to own or even just a bag of their favorite popcorn.
Lingerie – Get your husband some sexy briefs or your wife some beautiful lingerie.
Massage coupons – buy a fun massager, back massager, neck massager or maybe even a fun bedroom toy 😉 Check out the app products for a great selection of products
Night of Nakedness coupon – A fun body spray or body glitter would be fun
Shower scene coupon – Have you tried using shower steamers? They are like bath bombs that smell amazing and steam up your shower! You have to try some. You could also buy a simple body wash
Foot massages – buy a nice foot cream or lotion in your spouses favorite scent.
Re-create our first date coupon – This one could be easy or hard, maybe purchase a gift card to the restaurant your first date was at, or some kind of item that helps you remember that night.
Marathon coupon – You might want to buy some little treats or drinks to break up the night 😉
Hot bubble bath coupon – Buy your favorite scented bubble bath!
Morning make love session – Purchase a pack of mints so that yucky breath disappears!
Cook you dinner of choice – purchase a little basket of all the ingredients you will need for the dinner you know they will ask for!
Love note – purchase a romantic card for your spouse or a pack of blank notes you can keep on giving them… maybe do a whole week of love notes?
I hope you find these romantic and sexy coupons for your spouse to be enjoyable, and put a big smile on both of your faces after you give them!
Don't forget to download the app for the printable coupons!
To download the free printable coupons, Download the free Ultimate Intimacy app in the App Store, go to the resource section under coupons and printables.